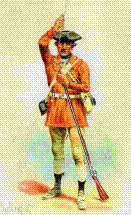 Soldier of the First Georgia Regiment
of Infantry - Continental Line
Colonel Samuel Elbert, in command of the Georgia Continental Army and Naval forces

About 300 men from the Four Georgia Continental Battalions at Fort Howe led by Lieut. Col. Ray and Major Roberts

Col. White on board the Lee, Capt. Melvin on board the Washington, and Lieut. Petty on board the Bulloch, each with a sufficient party of troops.

50 men of the First Company of Artillery under Capt. Young on a Flat Boat.