2005 - A year of Accomplishment
A message from Bill Ramsaur, President, Marshes of Glynn Chapter
2005 was a banner year for our SAR Chapter. We led a major cooperative effort to commemorate a Revolutionary War event that heretofore had been largely overlooked by local historians. The Project Team included: Georgia Society Sons of the American Revolution. Brunswick DAR Chapter, Fort Frederica DAR Chapter, Georgia Historical Society, Fort Frederica National Monument, and Coastal Georgia Historical Society.

The next observance of Georgia Patriots Day is scheduled for Wednesday, April 19, 2006, and will be conducted at 10:00 A.M at the Fort Frederica National Monument, St. Simons Island, Georgia.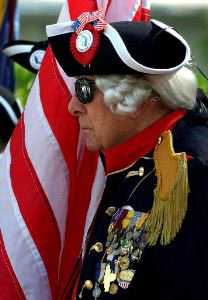 William Stevenson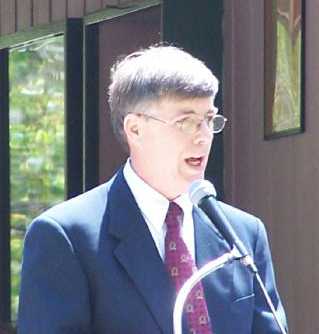 Buddy Sullivan
Naval Action Triggers First Celebration
of Georgia Patriots Day- April 19, 2005

Back to Events
Pictures of the Frederica Churchyard Ceremony

Pictures of the Fort Frederica Ceremony
Poem Written by 4th Great Grandson of Cutler Braddock
Brunswick, Jacksonville & Atlanta newspaper Reports
April 19, 2005
- Patriots Day was celebrated in grand style on a beautiful spring day on St. Simons Island, Georgia. At least two hundred DAR, SAR, SR & Society of Cincinnati members from Georgia and Florida were joined by about one hundred descendants and another hundred local citizens to honor soldiers and sailors of the Revolutionary War. They dedicated SAR Markers for four Patriots in the Christ Church, Frederica Churchyard and then unveiled a Georgia Historical Marker at nearby Fort Frederica National Monument to commemorate the Frederica Naval Action. During the previous day, water tours were conducted on the Frederica River in which the Revolutionary War battle occurred. The Georgia Patriots Day Celebration was planned and conducted by the Marshes of Glynn SAR Chapter with substantial assistance and support from the Georgia Society SAR and other hereditary and historical organizations.

Four Patriots Honored at Christ Church, Frederica Churchyard

In the morning, a Ceremony was conducted to honor Revolutionary War Patriots: Cyrus Dart, Robert Grant, William Page and Samuel Wright. The memorial service, attended by over 200 people, incorporated elements of military reviews dating from the time of the Revolution including: formation of troops, presentation of colors, and musical salutes. Descendants read biographies of the Patriots which included a description of their military service. Twenty-five members of the Georgia and Florida SAR Color Guards led a procession to the burial sites of the Patriots. They stood at attention while SAR bronze Markers were unveiled, flags and wreaths presented, and bagpipe salute performed followed by Taps. George Thurmond, Georgia SAR President, said that the Frederica Ceremony had the largest attendance of the seventy-three cemetery marker services previously conducted in Georgia.


Dedication of Historical Marker at Fort Frederica

A Georgia Historical Marker entitled "The Georgia Navy" was dedicated at the entrance of the Fort Frederica National Monument during the afternoon. The Marker describes the Georgia Navy's victory on April 19, 1778, against the British in a skirmish in Frederica River in the shadow of the still standing Fort Frederica powder magazine (See approximate location ). The ceremony, attended by over 400 people, included over eighty descendants of Patriots who participated in the Frederica Naval Action.

Coastal Georgia Historian Buddy Sullivan stated, "We're walking through history'' to the large crowd gathered at Fort Frederica, many of whom found shade under old live oaks. Virginia Steele Wood, Naval Specialist at Library of Congress, gave an account of how Colonel Samuel Elbert, Continental Line officers and Georgia Navy captains, including John Cutler Braddock, and over five hundred soldiers and sailors were helped by the tides, winds and good fortune in three galleys to outmaneuver and capture three British vessels. (Click here for description of battle, maps, illustrations & photos.) A Proclamation, issued by Georgia Governor Sonny Perdue, was read which "urged all Georgians to become more knowledgeable of the role the Revolution played in the history of our great nation."

Featured in the ceremony was the U.S. Navy Band, Southeast from Jacksonville, Florida Naval Air Station. The Georgia Society Color Guard, smartly dressed in Revolutionary War uniforms and Militia clothing, were joined by the Florida Brigade Color Guard. Wreaths, Bagpipe and Musket Salutes and Taps honored Colonel Samuel Elbert and his Georgia sailors and soldiers, and descendants of these Patriots were presented a pin with a white ribbon attached.


Annual Celebration of Georgia Patriots Day

The Georgia Navy victory on April 19, 1778, in the Frederica River occurred exactly three years after the "shot heard round the world" was fired at Lexington on April 19, 1775. Georgia Society SAR President George Thurmond said, "We would like to observe Georgia Patriots Day at Frederica on April 19 in the future; not only to pay tribute to the heroes of the American Revolution, but to remind everyone of the sacrifices they endured during the eight years of struggle for American Independence."

Patriots Day 2005 Video Available

The Marshes of Glynn Chapter GASSAR has sponsored the production of a ninety-minute professionally edited video. Key parts of both the morning ceremony at Christ Church, Frederica Churchyard and the afternoon ceremony at Fort Frederica National Monument are included. To obtain the video, send a check (payable to Marshes of Glynn Chapter, GASSAR for $10 per copy- specify VHS or DVD format- plus $4 mailing cost) to Bill Ramsaur, 116 Florence Street, St. Simons Island, GA 31522.